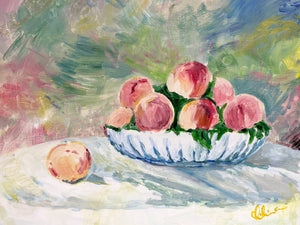 [Shiodome Park Hotel Tokyo] December 23rd (Sat) 13:00-15:30 | Auguste Renoir | Peach still-life painting by Pierre-Auguste Renoir
Regular price
Sale price
$54.00
Tax included.
---
(English follows)

Painting Auguste Renoir's ``Peach Still Life.''
"Peach still-life painting" by Pierre-Auguste Renoir

The instructor will explain how to draw in an easy-to-understand manner, so even those with no experience or who think they are not good at drawing can complete wonderful drawings while having fun.
Art supplies and aprons will be provided on the day of the event, so please feel free to come empty-handed.

At artwine, everyone is welcome. Never picked up a brush before? Not to worry—our instructors will walk you through each and every step. Perhaps you already have experience painting but want to sit back, relax, and see what new ideas flow through the brush. No two paintings are alike, and we encourage you to explore your own sense of style and creativity. We take care of all the materials and preparation so that you can have the most relaxing experience possible. By the end, you'll have completed your very own version o bring home with you.
■Service content
・Lessons on how to draw well from an instructor ・Art supplies, apron
・Paper bag for take-home
・Special wine paired with the image of a painter/painting
・Snacks, snacks, etc.

Materials & Services Provided:
-Step-by-step painting instructions
- Apron & arm covers, painting materials (brushes, canvas, paint, etc.)
- Sturdy bag to safely bring your painting home
- Wine especially selected by our in-house sommelier
- Light refreshments (rice crackers, sweets)

■About the event venue Park Hotel Tokyo Scarlet Room
Shiodome Media Tower, 1-7-1 Higashi-Shinbashi, Minato-ku, Tokyo (Front 25F)
After taking the elevator to the 25th floor hotel lobby, pass through the front desk and take the guest elevator at the back to the 26th floor.
Exit the elevator, go to the right, turn left at the end, and you will find the Scarlet Room, and if you go further, you will find the Bloom Room.
Location:
Park Hotel Tokyo
Shiodome Media Tower 25F, 1-7-1 Higashi-Shimbashi, Minato-ku, Tokyo

https://goo.gl/maps/KpN651KLaLZRPBDj7
1 minute walk from Shiodome Station on the Toei Oedo Line/Yurikamome Line
Toei Oedo Line/Yurikamome Line→Shiodome Station→1min walk
4 minutes walk from JR/Tokyo Metro/Toei Subway Shinbashi Station
JR/Metro/Toei Subway→Shimbashi Station→4min walk
■About the day
We will start exactly on time, so please arrive with plenty of time to spare.
If your arrival is likely to be delayed, please contact artwine.tokyo@gmail.

The day of the workshop:
If you will be arriving late for the workshop, please send an email to us at artwine.tokyo@gmail.com.


■About cancellation of reservation
For reservations made after January 1, 2023, cancellations due to customer convenience will be accepted up to 3 days before the event date.
Please note that 100% of the fee will be charged for cancellations made less than 3 days in advance.

Canceling a reservation :
Reservations can be canceled at no cost up until 3 days before the workshop.
Please send us an email specifying the date and time of the reservation, the name of the person who made the reservation, and the number of people.
Please note that 100% of the fee will be charged for cancellations made after the 3 days before the workshop.

■About food and drink
We have a special wine pairing inspired by painters and paintings.

Refreshments:
Our specially paired wine and refreshments will be available.

■If you have not received the reservation email after purchasing,
① Please check your spam folder as it may have been stored there.
② Your settings may not allow you to receive emails from "@gmail.com", so please contact us after setting up your settings so that you can receive them.

If you have not received a reservation email:
Please check your junk folder, as it may have been sent there. Your email may also be set up to not receive emails from "@gmail.com" addresses. If this is the case, please reset your email settings and contact us again